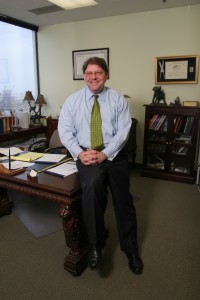 Over 28 years of experience in Bankruptcy, Insolvency, Receiverships, General Assignments, and Debtor/Creditor Litigation, with particular expertise in:
Appearances in matters pending before the United States Supreme Court, the United States District, United States Bankruptcy, State Appeals Court, Superior and Municipal Courts.
Trial attorney in business litigation in the State and Federal courts, including jury trials as well as private arbitrations.
Successful representation of broad spectrum of debtors and creditors throughout reorganization or liquidation proceedings.
Serviced as a federal and state court Receiver in numerous cases involving real property, law firms, mortgage companies, automotive sales and repair companies, nightclubs and restaurants, and many other types of organizations.
Serves as Third Party Director in situations of ownership deadlock.
Serviced as state-court Referee for the purpose of liquidating property.
Representation of state-court Receivers, including receivers for law firms in liquidation under the supervision of the California Superior Court.
Representation of creditors, debtors, state and federal court receivers and trustees in bankruptcy in cases pending under Chapters 7, 11, 12, and 13 of the Bankruptcy Code.
Serviced as Trustee in bankruptcy and as Assignee for the Benefit of Creditors (under General Assignment) for numerous businesses in reorganization or liquidation.
Services as Arbitrator for the American Arbitration Forum.
PROFESSIONAL HISTORY
Principal of Haberbush & Associates, LLP (January 2006 – present).
Principal of Haberbush Feinberg, LLP (November 2003 – December 2005).
CEO/President of Equitable Transitions. Inc. (October 2003 – present).
Principal of Haberbush & Campbell, LLP. ( February 1996- October 2003).
Member of the Law Firm of Roquemore, Pringle & Moore, Inc. (1987-1996)

Headed the firm's debtor-creditor, insolvency and bankruptcy department.

Associate of Sulmeyer, Kupetz, Baumann, & Rothman (1982-1987).
COMMUNITY SERVICE
Long Beach Bar Association, 1997 – present.

Member of the Board of Governors, 2001 – 2002.
President 2011
President Elect 2010
Vice-President, 2009.
Treasurer, 2008.

Dean's Advisory Board, Trinity Law School, Santa Ana, CA, 2006 – 2010.
Board Member, Long Beach Arts Council, 2006 – 2008.

Real Estate Subcommittee, 2008.

Member St. Mary's Medical Center Board of Trustees, June 2006 – Present.
Member, Advisory Board, Salvation Army, Long Beach Citadel, 2006 – 2009.

Real Estate Subcommittee, 2007 – 2009.
Chairman of Board Development, 2007 – 2009.

Committee Member, Diversity in the Profession, Los Angeles County Bar Association, 2005 – Present.
Elder, Long Beach Christian Reformed Church, 2005 – 2011; President 2007 – 2011.
California State University, Long Beach, Student Hearing Disciplinary Officer, 2004 – present.
Long Beach Playhouse

Board Member 2008 – Present
President 2009 – 2011

Arbitrator, National Arbitration Forum, 2004 – 2008.
Member, Editorial Board, California Business Law News, 2003 – 2006
Long Beach Bar Foundation, Board of Trustees, 2002 –2006.

Chair, Fundraising Committee.

Member, Ball-Hunt Inn of Court, 2001 – present.
Panel of Receivers, Los Angeles Superior Court, 1998.
Adjunct Professor, Business Law, at Whittier College, Fall 1996.
Standing Chapter 12 Trustee for the Central District of California (1991-1992).
Standing Panel of Chapter 7 Trustees for the Central District of California (1987-1995).
Los Angeles County Bar Association.
PRESENTATIONS
Revisions to the Bankruptcy Code Affecting Chapters 7, 11, and 13.
"How to Represent a Chapter 7/13 Debtor."
Lecturer at California State Bar, Fall, 1998 Section Education Institute.
1999 California State Bar Annual Meeting: 1999 Revisions to the Bankruptcy Code.
2000 State Bar of California Business Law Section Spring Meeting, "Exemptions in Bankruptcy."
2003 Lecturer at California Society of Certified Public Accountants.
PUBLICATIONS
"Why At-Risk Kids Need a Shortstop," Long Beach Business Journal, March 28 – April 10, 2006.
"Avoiding Bulk Sales Pitfalls," Long Beach Business Journal, August 3-16, 2004.
"The End of the Beginning: Alternatives to Bankruptcy," Long Beach Business Journal, July 6-19, 2004.
"Deadlock Doesn't Have to Mean Good-Bye," Orange County Lawyer, May 2004
"Easy as ABC," The Deal, February 9, 2004.
"War Stories: Arguing Before the Supreme Court," Business Law News, Issue 3, 2004.
"ABC is Alternative to BK," Big News for Small Businesses, November/December 2003.
8-Part Column, "Ask the Lawyer," for the Signal Hill News Enterprise, 2003-2004, covering such topics as homestead exemptions, fraudulent transfers, asset protection against malpractice, and unpaid corporate credit cards.
PRESS
"Long Attorney Before Supreme Court," Grunion Gazette, April 22, 2004
"Local Lawyer to Face Supreme Test," by John Underwood, News-Enterprise, August 13, 2003.
TELEVISION APPEARANCE
"Identity Theft Exposed," April 8, 2004, Letter of the Law television program sponsored by the Long Beach City Prosecutor's Office.
EDUCATION
Whittier College (B.S. 1979).
Whittier College School of Law (J.D, cum laude, 1982).

Legal extern to the Honorable William J. Lasarow, Chief United States Bankruptcy Judge for the Central District of California. 1981.
SELECTED EXPERIENCE AS A FIDUCIARY
In Re Santa Monica Beach Hotel, Ltd. involved a partnership's failed hotel construction in Santa Monica California resulting in litigation and financial failure. As, Trustee Mr. Haberbush worked with the secured creditors and the City of Santa Monica so that the incomplete hotel could be sold to a buyer who could complete the construction. He was able to sell the partially completed hotel for $18,750,000. The hotel is now operated under the name "Shutters". Additionally, he oversaw and managed the construction defect litigation resulting in a settlement of $33,000,000.
In re Butterfield & Mason Mortgage Company was a failed mortgage company which held title to real properties, including property located in the "Golden Triangle" in Beverly Hills, California. The major real property was office buildings occupied by physicians. Mr. Haberbush was required to manage and sell the office buildings and was able to accomplish sales for more than $16,000,000. Additionally, he managed a moderately large loan portfolio and related litigation.
In Re Fadel Group Investments was a fraudulent "investment" company which solicited the investment of funds from the Los Angeles Latino community. As Trustee, Mr. Haberbush investigated a complex ponzi scheme involving investments in real properties throughout Southern California. He managed a number of lawsuits brought to clear title to real properties and prepare them for sale. He sold more than 20 real properties for more than $4,000,000 ranging from an office building on Whilshire Boulevard in Los Angeles, to single family residences.
In Re Sahauro Petroleum & Asphalt Company, Inc. was a business that sold asphalt for public and other works of improvement in the State of Arizona. The assets included an operating asphalt storage facility with trucks, railroad leases and real property holdings. At the time Mr. Haberbush was appointed, the business operations were ongoing in Phoenix, Arizona. He assessed the business assets and maintained the business operations such that a sale of the real property, railroad leases and related personal property could proceed in an orderly manner. He was successful in obtaining more than $4,000,000 through the sale of the business assets.
In Re Balchand Patel was an individual who owned motels and other retail enterprises throughout the State of California. The assets included motels in Long Beach, Crescent City and Ventura California as well as residential real property and El Pollo Loco restaurants. Although Mr. Patel fled the country and business records were not available, Mr. Haberbush operated the motels and the restaurants profitably. He was able to sell some of the motels and all of the restaurants for their market values.
In Re Hong Trieu involved an individual whose principal asset was an Arco Service Station and Mini Mart in a gang infested neighborhood. Mr. Haberbush operated the business, established financial controls, worked with the franchisor of the business, and sold the business for more than $1,000,000.
In Re Zonni, Ginnocchio & Taylor was a law corporation with 5 locations in California ranging from San Diego to Ventura. At the time Mr. Haberbush was appointed, the business was operating and he was required to cease the business operations, close all 5 locations, notify the firm's clients of the business closure and coordinate the transfer of more than 2000 active client files to other law firms. Additionally, he collected more than $1,000,000.00 in billings and liquidated another $2,000,000 in assets.
Beyond Music was a company, with a record label, which, due to internal disputes between owners, became financially unable to continue in its business operations. In December of 2003, owner of the company determined that it could no longer continue viable operations. As assignee for the benefit of creditors, Mr. Haberbush as the principal of Equitable Transitions, Inc. oversaw the liquidation of the assets of the record company. An extensive music catalog was marketed and sold, successfully resulting in funds sufficient to pay all liens against the music catalog with funds left over to pay legitimate creditor claims.
GreenOrange was engaged in the business of commercial knitting in the city of Vernon, California.. The assets were initially investigated and valued. Through Mr. Haberbush's efforts, a strategy for the sale of the assets was agreed upon with the principals of the company which resulted in the realization of value far in excess of the initial determinations. The liquidation involved coordination with the city of Vernon who was one of the major creditors.
Centerpoint Mortgage Corporation, a mortgage company and broker, found itself overextended and in irremediable financial circumstances when interest rates began to increase in late 1998. In May of 1999, Centerpoint Mortgage Corporation commended its voluntary wind-up and dissolution and chose Equitable Transitions to conduct the liquidation of its assets and wind its business affairs. Located in Orange County, California, CMC did business in a number of states scattered across the country. At the time of the appointment, more than fifty mortgages issues by CMC were standing of record in the name of CMC in Minnesota, New Jersey and other states. As a Receiver, Mr. Haberbush pursued these legally and factually complex issues with an eye toward realizing assets to pay a meaningful dividend to creditors.
The receivership of the Southland Companies involved three distinct corporations engaged in the development of real properties in Southern California, often in participation with redevelopment agencies. Most of the developments were funded from limited liability companies, of which the Southland Companies were managing members and creditors. The transactions were often complex. Most of the developments were with funds from private investors as well as funds from redevelopment agencies. When the Southland Companies became insolvent, they elected to file a petition for wind up and dissolution, under Superior Court supervision, and Mr. Haberbush was appointed the receiver. Mr. Haberbush negotiated the sale of the assets of a number of the limited liability companies, as well as the assets of the Southland Companies. While this receivership is ongoing, it appears that creditors will receive a significant dividend on account of their claims.
Wolfer Printing Company was a commercial printing facility located in Commerce, California. Mr. Haberbush, upon his appointment as assignee for the benefit of creditors took charge in possession of an operating printing facility. Upon making investigation into the assets and liabilities, and obtaining valuations for the assets, he negotiated a going concern sale of all of the assets of the Company, with the consent of the primary secured creditor. As a result, the secured creditor was fully paid, within less than 30 days and a meaningful distribution was given to the unsecured creditors.
PUBLICATIONS
"ABC is Alternative to BK," Big News, 12/03
"Easy as ABC," The Deal, 02/09/04 (coming soon!)
"Avoiding Bulk Sales Pitfalls," Long Beach Business Journal, 03/03/04
"Long Beach Attorney Before Supreme Court," Grunion Gazette, 04/22/04
An eight-part column in The News Enterprise entitled "Ask the Lawyer," 2004-2005 (coming soon!)
"Why At-Risk Kids Need a 'Shortstop,'" Long Beach Business Journal, 03/28/06 (coming soon!)